Our 5th annual conference was held on September 28, 2015, in Warsaw. Around 200 participants, including ca. 50 court presidents and numerous judges, as well as representatives of the Ministry of Justice, various NGOs and the media, were introduced to the results of our program of Citizen Court Monitoring. This time, we presented results of over 5,200 hearing observations from a record number of 175 courts throughout the country, received from 571 volunteers. Conclusions were quite optimistic – especially in those courts, where our monitors have been actively present for the past 5 years, we were able to observe increased transparency, punctuality and equal treatment of both parties. Our report (available here in Polish, with English contents and summary) details both the areas where we saw improvement, as well as – relatively few – situations documenting lack of respect for the citizens or lack of transparency.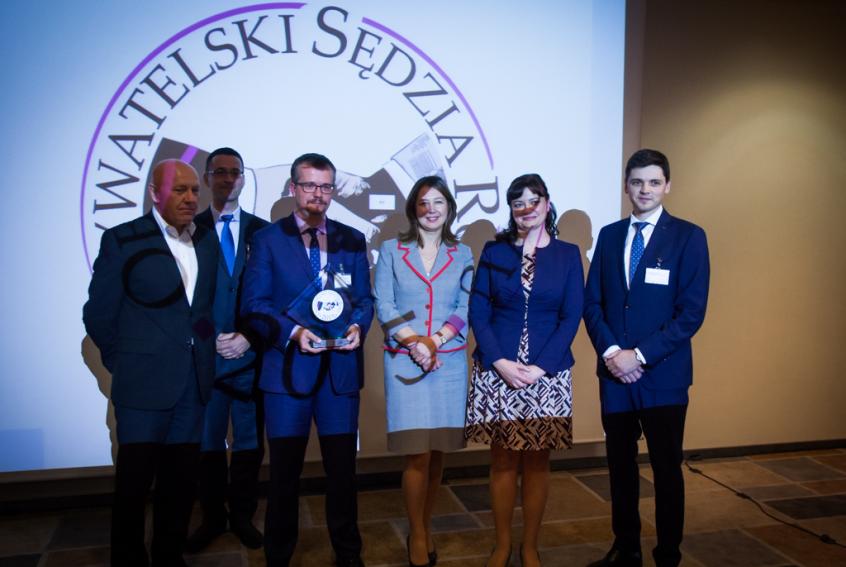 In 2015, Judge Jarosław Gwizdak (third from the left), President of District Court Katowice-Zachód, was nominated the 'Citizens' Judge of the Year', fot. Kamil Seweryn
This year, for the first time, we decided to honour 'a Citizens' Judge of the Year'. Citizens were invited to nominate judges who displayed particular sensitivity to the needs of court users. In 2015, the jury (composed of judges, journalists, representatives of NGOs and the Foundation) awarded the prize to Judge Jarosław Gwizdak, President of District Court Katowice-Zachód, for a number of his innovative initiatives. Among them, especially notable was the idea to inspect his own court on a wheelchair, accompanied by a disabled person, to check whether recent investments really made the court more user-friendly. Other ideas included innovative ideas promoting mediation, as well as his input in the creation of a joint effort – the 'Legal First-Aid Kit', a publication explaining the law to the youth, initiated and paid for by judges themselves.